CYCLES FOR ALL NEEDS
Flexibility is essential to rationalise workflow and operative efficiency.
Onyx B offers a wide range of cycles, all studied to help you every day.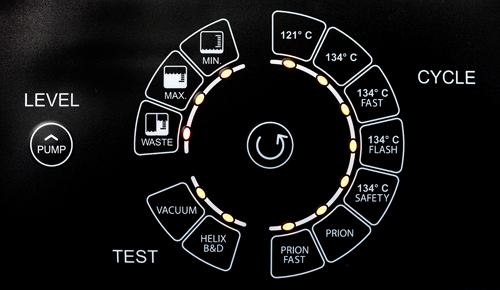 LARGE LOAD
New regulations and sterilisation concepts have improved the sterilisation process in all medical and dental facilities; this has led to a wider range of instruments, a spread of professional facilities, and consequently the need for autoclaves with large load capabilities.
The Onyx project aims to satisfy these needs with new, specific solutions which can also manage partial loads easily.


ENERGY SAVING
Onyx B has low energetic consumption as well as unbeatable consumption/load ratio.
Economic saving and benefit for the environment.

DOUBLE LOAD... SAME TIME
The standard size autoclave sterilises about 4 kg of instruments, while Onyx B can sterilise about 8 kg.
With 1 double load there is 50% time saving.

BEST INSTRUMENT MANAGEMENT
The large load autoclave rationalises instrument flow, so increasing operative efficiency.
Efficiency means profit, another advantage of Onyx B.

LONGER TRAYS (+30%)
Wide trays enable instrument insertion in large envelopes, allowing for rational load placement for large load sterilisation according to the correct guidelines for load placement.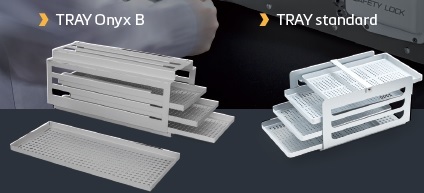 P.I.D. SYSTEMP.I.D. means Proportional Integral Derivate and represents the apex of closed loop controls.
The structure of this technologically advanced control is simple and flexible.
P.I.D. ensures a constant control and monitoring of the whole operating system of the autoclave, acting automatically in case of anomalies or incorrect values in technical and electronic parameters.
This device behaves like a "real technician" with real-time diagnostic and intervention capability.
This solution reduces anomalies and warnings, guaranteeing maximum reliability with minimal idle times.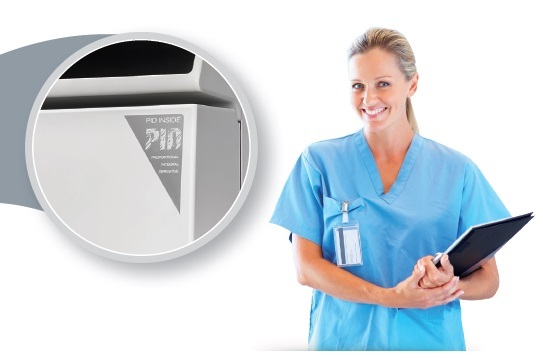 SD CARD
The SD CARD system ensures recording and storage of all cycles which can then be downloaded on your PC for their management.
The SD CARD system allows constant machine updating by simple data download, then insertion into the autoclave system.
An extraordinary option in order to have a constantly efficient and updated device.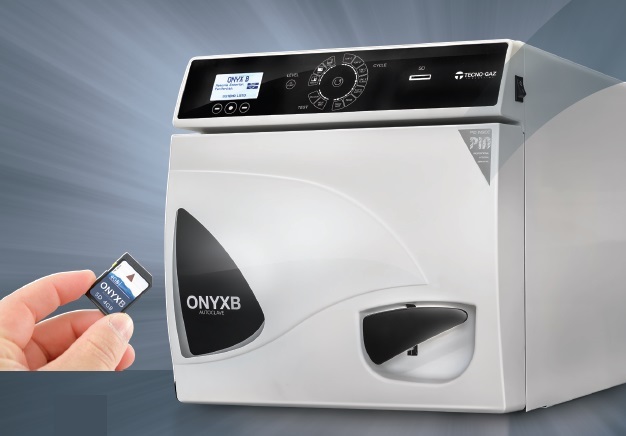 FL (FULL LOAD) SYSTEM
To avoid manual loads with the possibility of water overflow, the automatic clean water tank system of Onyx B has a level sensor control pump with automatic lock.
Front loading, no opening cover or removal system, enabling simple machine positioning.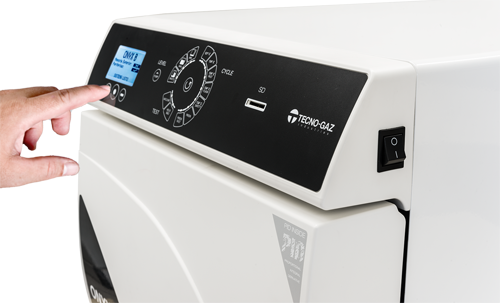 PURA PLUS
The autoclave is autonomous, equipped with a double tank for clean water and waste water. It is ready for connection to the water supply through the PURA Plus osmosis system.